About National Daiquiri Day
How long until National Daiquiri Day?
National Daiquiri Day

.

Dates of National Daiquiri Day

2024

USA

Friday, July 19th

National Daiquiri Day

2023

USA

Wednesday, July 19th

National Daiquiri Day

2022

USA

Tuesday, July 19th

National Daiquiri Day

2021

USA

Monday, July 19th

National Daiquiri Day

2020

USA

Sunday, July 19th

National Daiquiri Day

Summary
Find out the dates, history and traditions of National Daiquiri Day
The original daiquiri is an extremely simple recipe that requires just three common ingredients. It is also one of the freshest drinks you can make and an essential rum cocktail everyone should know and taste.
The daiquiri is a classic rum sour drink, and—much like the martini and margarita—it has also developed into a subfamily of drinks. Many variations take on a variety of flavors, and it's often blended with ice as well.
Daiquirí is the name of a beach and an iron mine near Santiago de Cuba, and is a word of Taíno origin. The drink was supposedly invented by an American mining engineer named Jennings Cox, who was in Cuba at the time of the Spanish–American War, in the late 1800s.
One evening, Cox was entertaining fellow American guests at his home in Cuba, near the village of daiquirí, when he reportedly ran out of gin.
The story goes that he hurried to the village market to find some other alcoholic beverage for his guests, and all he could find was a local rum—likely Bacardi. Historians say that in hopes of appeasing the more sensitive palates of his American guests, Cox mixed the local rum with lemon juice and sugar in a punch bowl.
His quick thinking resulted in the creation of the first drink of this sort to be called a daiquiri, which was named after the nearby village.
Of course, it's likely that Cox added sugar and ice to a drink that was already a local favorite and renamed it, but his efforts in creating the daiquiri were recognized by many.
In fact, by 1909, a U.S. Navy medical officer named Admiral Lucius W. Johnson tried Cox's daiquiri and introduced it to the Army and Navy Club in Washington, D.C., which led to its popularity among Americans.
Probably the most famous daiquiri lover was Ernest Hemingway. He even has his own variation - the Hemingway daiquiri adds grapefruit and maraschino liqueur to the mix.
How to Make a Strawberry Daiquiri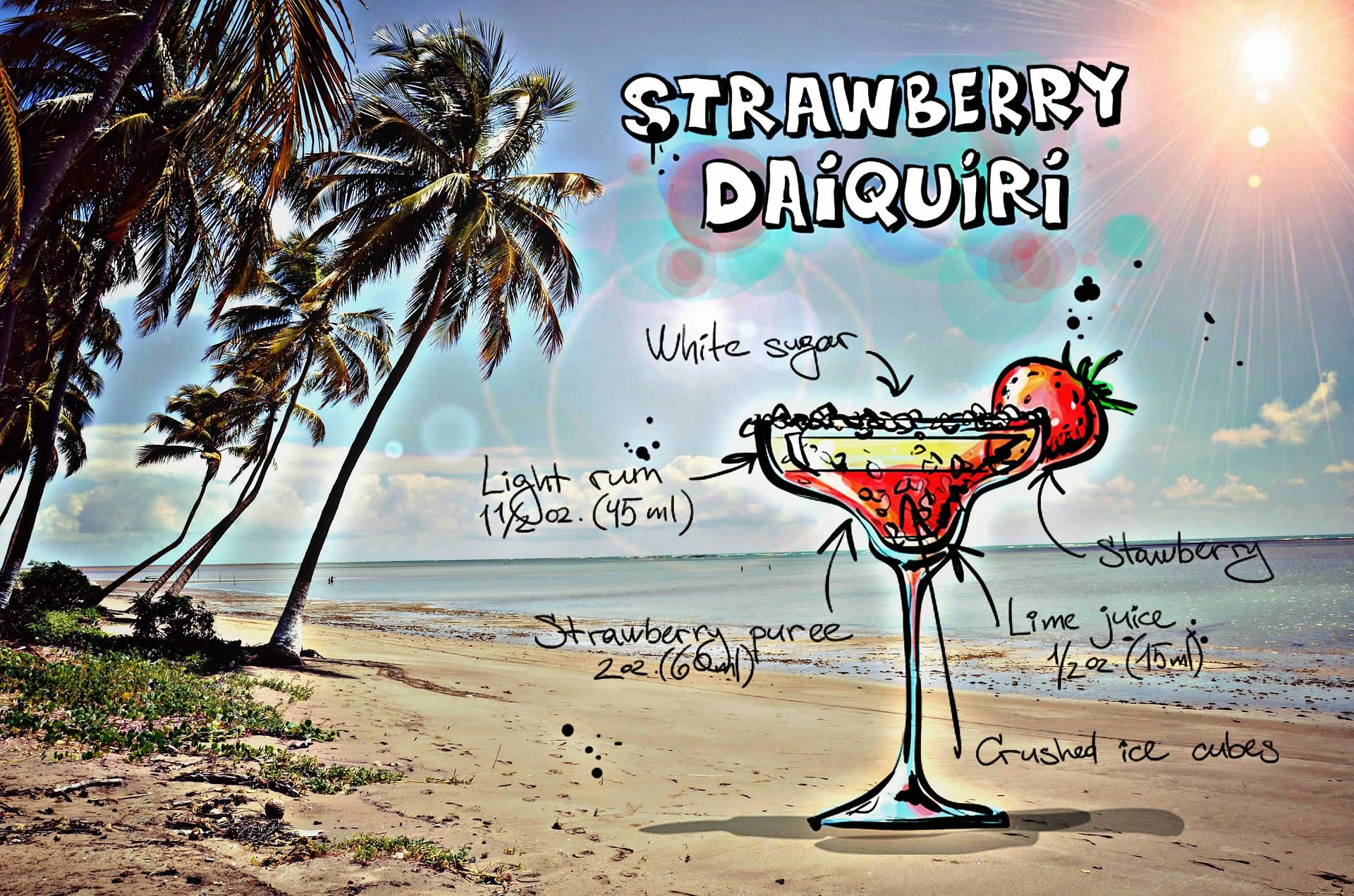 Image via Pixabay. CC0
What is the difference between a Margarita and a Daiquiri?
There are two main differences between a margarita and a daiquiri. A margarita is typically made with tequila, while a daiquiri is made using rum. And while a daiquiri contains rum, lime juice, and simple syrup, a margarita contains tequila, lime juice, and triple sec (an orange liqueur).
Similar Observances
Explore more Alcohol holidays
Other Observances on July 19th 2023
All events on July 19th 2023